DTMS Group has recently completed a substantial fencing contract at Lightwater Valley Theme Park.

A Finnish company called Lappset had the job of installing a new attraction at the Theme Park based on the popular phenomenon. The premise of this meant that there was just one access point, so therefore, the whole attraction needed to be fenced round. DTMS Group successfully won this fencing contract and over the space of a month, erected 500 metres of weld mesh panel fencing to compliment the new development.

With the knowledge and experience that our staff draw on, we were able to work around the construction elements of the project without causing any inconvenience to other trades. There was a tight deadline to meet for the parks opening ceremony for the Spring/Summer season which we met without any problems.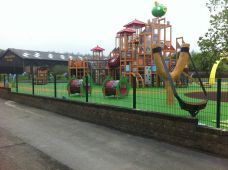 Although this wasn't 'security' fencing, it can be installed for this use, and has been many times by DTMS Group. We install all types of fence, including weld mesh fence, palisade fence and chainlink fence.

Whether you are a local authority, business or private landowner, we have the experience and the expertise to manage every aspect of your environmental management plans. Contact us today for further details of our complete range of services.